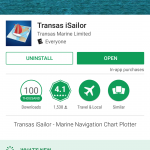 iSailor for android started off pretty crappy, but with the latest version (2.81 1/18/17), I've found it's finally made it over the hump to make it actually worth the money. Like many other apps, the app is free, but be prepared to drop about $50 to make it sing. I paid for West Coast CA charts ($6), NMEA ($11), and AIS receiver ($12) input sensors.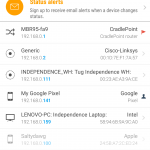 If you have a device broadcasting NMEA data (course, speed, position, AIS targets) on your boat wifi, you can point iSailor's NMEA and AIS Receiver at that IP. The easiest way to get the address of the server computer is to install the "Fing" app. There are both android and iPhone flavors available and functionality is the same. Hit scan for the current wifi you're on, and look for the IP of the server, should be something like 192.168.0.166. Also specify port 23.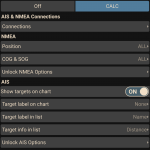 Open up iSailor, hit TOOLS > Sensors > AIS & NMEA Connections > Connections > Add Connections. TCP type in the IP of the server (eg: 192.168.0.166) and Port 23, Save. Back under TOOLS > Sensors > Primary PS select NMEA. Your position and AIS targets should all pop-up.
Here are all the pics I've got showing parts of the process, but didn't fit nicely above.